Paul Henry's new TV3/Radio Live show and the proposed axing of Campbell Live are driven by two factors – money and the challenges facing free-to-air television operators.
TV3 has gone bust twice in the past 25 years but its governance team is highly motivated to improve the company's performance.
With this in mind the board and management of MediaWorks, which owns TV3, are strongly incentivised to cut costs and introduce new programmes. These initiatives are likely to have a stronger emphasis on financial returns than broadcasting quality.
Any new programme that attracts advertisers and is inexpensive to produce will be appealing to chief executive Mark Weldon and his MediaWorks executive team.
TV3 Network, which was incorporated in October 1987, was New Zealand's first commercial television operator.
It went to air on November 28, 1989 – six months before Sky Television – and listed on the NZX seven days later after issuing shares to the public at $2.50 each.
Westpac converted most of its loans to equity and TV3 continued to broadcast while in receivership. CanWest, the huge Canadian media group, progressively purchased 100 per cent of the broadcaster from Westpac between 1991 and 1998.
In the late 1990s and early 2000s the company acquired a number of radio assets including More FM and NZX listed RadioWorks New Zealand.
The TV3/radio group relisted on the NZX in July 2004 – under the MediaWorks name – following the sale of a 30 per cent holding by CanWest through an IPO at $1.53 a share.
Three years later Ironbridge Capital, a Sydney-based private equity firm, purchased CanWest's remaining 70 per cent stake for $2.43 a share and made a takeover for the outstanding 30 per cent at the same price.
This bid was only partially successful and two months later Ironbridge made another offer at $2.68 a share valuing the company at $608 million.
This offer was successful and MediaWorks delisted from the NZX on October 15, 2007.
Ironbridge geared MediaWorks up to the eyeballs, with the broadcaster's debt surging from $165 million before the 2007 acquisition to $769 million immediately afterwards. As a consequence MediaWorks' annual interest costs soared from $13.8 million to $92.8 million with the latter figure excluding $14 million of interest capitalised on loan notes.
Unsurprisingly, MediaWorks was placed in receivership on June 18, 2013 after it drowned in a sea of debt.
The company was reconstituted on August 9, 2013 with new shareholders, mainly banks and private equity firms, and only $90 million of debt. The previous private equity shareholders suffered huge losses as did the public shareholders in 1990.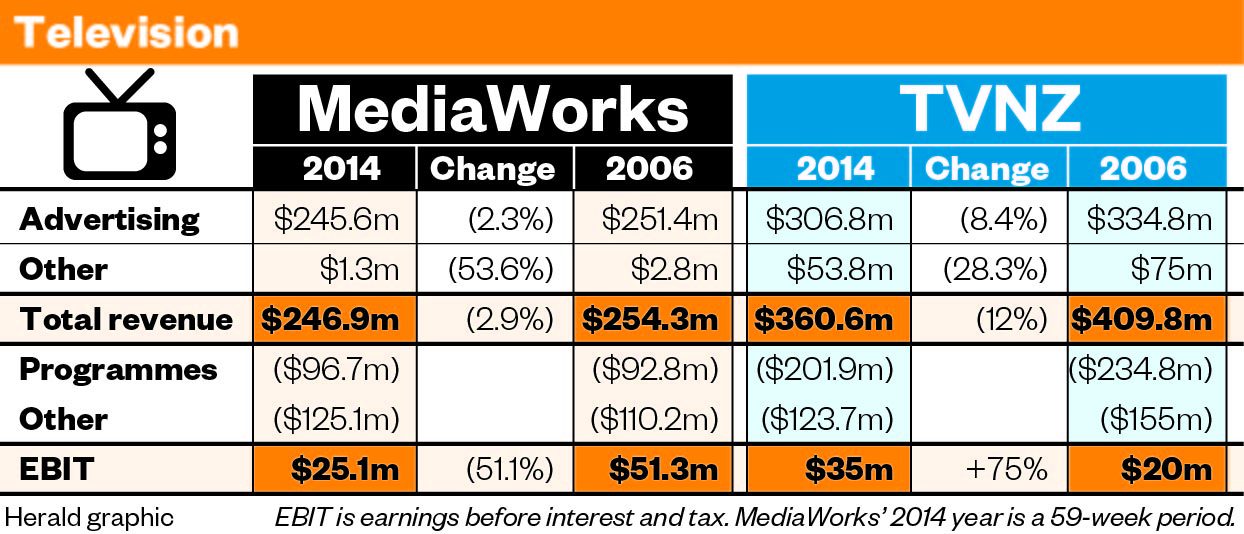 Its current directors are chairman Rod McGeoch, Julie Christie, Martin Dalgleish and Paul Lockey. Mark Weldon, the former NZX boss, was appointed chief executive in August 2014.
One of the important features of MediaWorks is its board and management incentive scheme which is described as follows: "The scheme is a share-based cash-settlement scheme which will be triggered on an 'exit event', being the realisation of the investment in the operating entities by the majority of the shareholders. The obligation will be determined based on the increase in equity value of the group from November 8, 2013 to the date of the 'exit event'. This increase in equity value is deemed to be the economic value added by the directors and senior management."
This incentive plan could be extremely lucrative for the directors and executives of MediaWorks when the "exit event" occurs – normally a trade sale or an IPO – because they can receive up to 10 per cent of the increase in value.
An increase in MediaWorks' equity value from $207 million as at September 30, 2014 to $608 million, which was the company's value when it was acquired by Ironbridge Capital in 2007, would deliver a bonus of up to $40 million for directors and senior executives.
The main problem facing McGeoch, Weldon, Christie and the rest of the MediaWorks board and executive team is the huge amount of competition TV3 faces from the internet and other sources.
Michael Strangelove wrote in his recently published book Post-TV: Piracy, Cord-Cutting and the Future of Television that "it would take over four million years to watch all the video that crossed the internet every month. Six years after YouTube came out of nowhere, over half of all consumer internet traffic was taken up delivering movies and television shows to online viewers".
Free-to-air television used to dominate viewing but this is being replaced by the free-to-use internet. Traditional television faces more and more competition as internet content increases, broadband speeds become faster, telcos continue to reduce prices and the younger generation migrates from television to smartphones, tablets and laptops.
Traditional free-to-air television looks as though it is going the same way as the fax machine and video recorder.
The figures in the accompanying table illustrate the problems facing traditional television operators.
TVNZ has experienced an 8.4 per cent decline in advertising revenue and a 12 per cent drop in total revenue since 2006. These declines were due to a number of factors including:
• Audience numbers have declined as illustrated by the country's three most watched programmes which had an average audience of 656,500 in 2014 compared with 767,100 in 2006.
• Government funding to TVNZ has declined from $29.4 million to $15 million over the same eight-year period.
• However, the Crown-owned broadcaster has also cut its programme expenses by $32.9 million over the eight-year period and other expenses by $31.3 million.
MediaWorks' advertising revenue declined by 2.3 per cent between 2006 and 2014 but this flatters the company's performance because its 2014 financial year was 59 weeks.
If we adjust MediaWorks' 2014 figures from 59 weeks to 52 weeks then the company experienced a 14 per cent decline in advertising revenue between 2006 and 2014.
Radio advertising probably held up better than TV3 advertising so the latter is probably struggling as far as advertising revenue is concerned.
McGeoch, Weldon, Christie and the rest of the MediaWorks governance team will be placing a huge emphasis on programmes that attract large audiences and are inexpensive to produce.
Campbell Live is in a vulnerable position unless its advertising revenue covers its costs and we can anticipate more Paul Henry type television/radio innovations.
The latest Nielsen surveys also demonstrate that free-to-air television is facing more and more competition. Individuals still prefer to watch video content on large screens but there is an increasing use of smartphone for videos of10 minutes or less. This is an issue faced by Campbell Live because it is dominated by short video clips.
Nielsen's global research shows that 67 per cent of respondents switch to another channel when adverts appear on the screen and 64 per cent catch up with their favourite programmes by watching several episodes at a time. This allows viewers to avoid advertising, which is the main revenue source for free-to-air television broadcasters.
Weldon, Christie and MediaWorks' governance team face an uphill battle to realise their potential bonus.
It will be a fascinating contest to watch from the sidelines, although John Campbell probably has a totally different view of recent developments at MediaWorks.
Brian Gaynor
Portfolio Manager