There is a huge difference between the timing and level of disclosure of the four Government-controlled NZX-listed companies – Air New Zealand, Genesis Energy, Meridian Energy and Mighty River Power – and other Crown entities.
The four listed companies have released detailed results for the June 2015 financial year but a number of the other Crown entities have yet to report and there has been a relatively low level of disclosure by those that have reported.
Air New Zealand and Meridian Energy have published their full annual reports but it will be late October – or even November – before some of the non-listed Crown entities release their full financial statements.
Even the Treasury's Commercial Operations Group, which monitors Government investment in companies and entities, seems to have lost interest in its non-listed organisations.
The Commercial Operations Group website contains a large amount of information on these Crown companies and entities, including annual reports, but it stopped providing most of these reports after the June 2013 year.
The website provides links to a number of media releases covering the June 2015 year results but most of these commentaries are brief.
The quality and timing of the profit announcements of the four NZX-listed Government companies clearly indicate that taxpayers have much more transparency in relation to these companies compared with non-listed Crown entities.
The accompanying table outlines the net profit after tax of 12 high-profile, non-financial Crown organisations.
Housing New Zealand Corporation, New Zealand Lotteries Commission and Radio New Zealand have yet to report while Solid Energy is in voluntary administration.
The most profitable non-listed, non-financial Crown entities are Housing New Zealand, New Zealand Lotteries, New Zealand Post – through its 100 per cent owned subsidiary Kiwibank – and Transpower.
Housing New Zealand owns or manages 68,000 houses with a total value in excess of $18 billion.
The company has a target to provide 2000 new homes in the 18 months ended December 2015. It has two major development projects in Auckland – Hobsonville Point and a major regeneration project in Tamaki in partnership with the Tamaki Regeneration Company.
Although Housing NZ provides accommodation for more than 193,000 individuals it could have been more proactive in addressing the country's housing shortage. It has more than $18 billion of assets but only $1.3 billion of debt while it paid income tax of $87 million and a $90 million dividend to the Crown in the June 2014 year.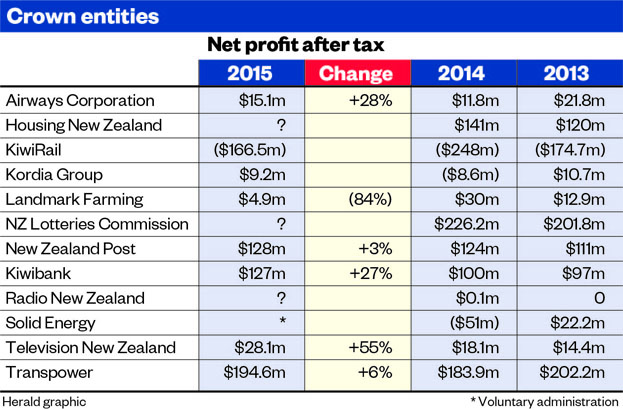 Housing NZ has had balance sheet capacity to help alleviate Auckland's housing problems but a conservative financial approach and large dividend payment to the Crown have reduced its capabilities in this area.
New Zealand Lotteries Commission is an incredibly profitable organisation that generated a pre-tax profit of $226.2 million for the June 2014 year (the commission doesn't pay any tax). The average punter receives only 49c in prizes for every $1 spent on games whereas the average sports better receives 87c back for every $1 spent at the TAB.
However, the Lotteries Commission's positive point is that its full pre-tax profit of $226.2 million was distributed to the NZ Lottery Grants Board, which allocates these funds to thousands of community groups, the arts and sporting organisations around New Zealand.
The Lotteries Commission's publicity machine is highly successful in promoting the occasional $1 million-plus winner but, in reality, Lotto's prize money is relatively meagre.
New Zealand Post reported an underlying net profit after tax of $128 million for the June 2015 year and chief executive Brian Roach was reported as saying: "Kiwibank performed well and contributed the vast majority of profits, off the back of net interest margin growth. The bank's strongest result yet rewarded years of investment by its parent company, the New Zealand Post Group, with its first ever dividend."
Kiwibank reported a net profit of $127 million for the June year and paid an inaugural dividend of $22 million. It generated an after-tax return of 0.73 per cent on total average assets whereas Heartland Bank, a fully-owned subsidiary of the NZX-listed Heartland New Zealand, produced a 1.58 per cent return on average total assets for the same period.
This suggests that Kiwibank has further scope to increase its profitability and pay a higher dividend to New Zealand Post.
Transpower, which owns and operates the national grid, is the Crown's second most important source of dividends after NZX-listed Meridian Energy. The company reported a net operating profit after tax of $194.6 million for the June 2014 year compared with $183.9 million for the previous year.
It paid a $188 million dividend to the Crown for the June 2015 year compared with $151 million in 2013/14.
Chairman Mark Verbiest was quoted as saying that the "reliability on the grid was the best performance achieved in the last 10 years and the grid managed well through a number of extreme weather events throughout the year".
However, he went on to warn that a regulatory reset, which started on April 1, 2015, is "likely to result in our financial performance in 2015/16 being lower than 2014/15".
This statement highlights the huge conflicts faced by the Crown as it effectively regulates Transpower while also receiving a huge dividend from the national grid operator.
TVNZ reported a net profit after tax of $28.1 million for the June 2015 year compared with $18.1 million in 2013/14, although the latter was adversely impacted by impairment charges in relation to two investments – Igloo and Hybrid Television Services.
TVNZ has declared a dividend of $8.3 million for the June 2015 year while no dividend was paid for the 2013/14 year because of costs associated with the refurbishment of its 100 Victoria St West headquarters.
The Crown's two basket cases are KiwiRail and Solid Energy.
KiwiRail reported a net loss of $166.5 million for the June 2015 year compared with a loss of $248 million for the previous year. According to the company's brief press release, the net loss "reflects the impairment of KiwiRail's rail assets. As the rail network does not generate sufficient cash flows to cover the level of required investment, a large proportion of the accounting value must be written off each year".
The company's freight revenue declined from $462 million to $433.7 million in the latest year because of the downturn in commodity markets, particularly milk, timber and coal.
KiwiRail's performance has been extremely disappointing, particularly as the railway sector is experiencing a renaissance in many developed countries.
It would be great to see a political party put a strong emphasis on developing a viable strategy for the country's rail operator.
Solid Energy was placed in voluntary administration early last month and a meeting of creditors on Thursday will determine its future.
The administrators have recommended a Deed of Company Arrangement whereby trade creditors and employees will receive 100c in the dollar and the banks and bondholders are expected to receive 35c to 40c in the dollar.
This is a better-than-anticipated outcome and creditors are expected to vote in favour of the wind-up of Solid Energy at next week's meeting. This will confirm that the Crown's equity holding in the coal company is worth nothing.
Brian Gaynor
Portfolio Manager
Disclaimer: This is intended to provide general information only. It does not take into account your investment needs or personal circumstances and so is not intended to be viewed as investment or financial advice. Should you require financial advice you should always speak to an Authorised Financial Adviser.