It is important for investors to keep a close eye on long-term trends as well as short-term developments. With this in mind, recently released long-term population predictions are essential reading for investors even though most of them are almost totally focused on the June year profit announcements at present.
The United Nations Population Division's long-term population projections, which are summarised in the accompanying table, received considerable international media attention this week. These figures clearly show why emerging economies have become more important in recent years.
The first point to note is the massive increase in the world's population, from 2.53 billion in 1950 to 7.35 billion at present.
Most of this population growth has occurred in Asia and Africa with Europe now representing only 10 per cent of the world's population compared with 21.7 per cent 65 years ago.
China's population has grown from 544 million to 1.48 billion since 1950 while India's has expanded from 376 million to 1.31 billion. These two countries have accounted for 37 per cent of world population growth over the past 65 years.
Meanwhile, New Zealand's share of the world's population has fallen from 0.076 per cent to 0.062 per cent over the same period.
The main reason for the population surge has been the massive increase in global life expectancy, from 46.8 years at birth in 1950 to 71.7 at present. China's life expectancy has risen from 43.4 to 76.5, India from 36.6 to 69.1 and New Zealand from 69.7 to 82.4 years.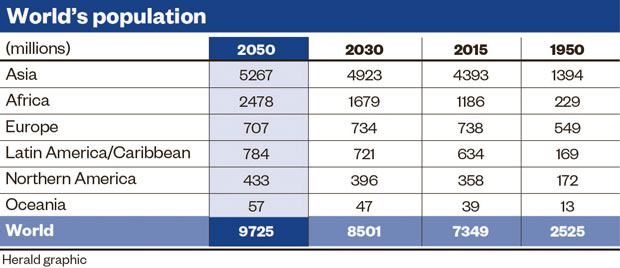 The United Nations Population Division now expects the world's population to increase from 7.35 billion to 9.73 billion between now and 2050. This is a lower growth rate than the 1950 to 2015 period for a number of reasons including:
• Forty-eight countries are projected to experience population decreases between 2015 and 2050. These include the following countries where the population is forecast to decline by more than 15 per cent – Bosnia and Herzegovina, Bulgaria, Croatia, Hungary, Japan, Latvia, Lithuania, Moldova, Romania, Serbia and Ukraine.
• Europe's population is projected to decline from 738 million to 707 million in the 35-year period while China's population will decrease from 1.38 billion to 1.35 billion.
• Declining fertility rates are a major contributor to the slower rate of growth, with the world fertility rate falling from five children per woman in 1950 to 2.5 at present and a projected 2.2 by 2050.
• The infant mortality rate, the number of children who die before they reach 5, has declined dramatically since the mid-20th century but this improvement has now flattened out.
• The HIV/Aids epidemic has reached its peak but it still has a negative impact on population growth, particularly in Southern Africa.
Nevertheless, the world's population will continue to grow strongly, particularly in Africa. The combined population of Nigeria, the Democratic Republic of the Congo, Niger, Tanzania and Uganda is projected to expand from 371 million at present to 908 million in 2050.
India will be the biggest gainer in numerical terms as its population is expected to grow from 1.31 billion to 1.71 billion by 2050 when it will be the world's most populous country.
New Zealand's population is expected to grow from 4.5 million at present to 5.6 million in 2050 or from 0.062 per cent of the world total in 2015 to 0.058 per cent in 2050.
The composition of the world's population will change slowly but steadily over the next few decades, particularly in terms of ageing.
The world's median age has increased from 23.5 in 1950 to 29.6 at present and is projected to be 36.1 in 2050. By 2050, the median age in Korea is expected to be 53.9, in Japan 53.3, in China 49.6 and in New Zealand 43. In 1950 the median age in all these countries was below 30.
Looking at it another way, the number of people in the 60-plus age group will go from 12.3 per cent of the world's population at present to 21.5 per cent in 2050. The 60-plus age group is projected to increase from 18.5 per cent to 41.5 per cent in Korea over the same period, from 33.1 per cent to 42.5 per cent in Japan, from 15.2 per cent to 36.5 per cent in China and from 20.3 per cent to 29.4 per cent in New Zealand.
There are a number of clear winners from these figures including the healthcare sector, retirement facilities, pension savings and other industries that are focused on the 60-plus age group. There will be a huge demand for health services because the number of individuals aged 80 and over will increase from 125 million to 438 million in 2050.
Based on these population figures it looks as though India will replace China as the major driver of world economic growth. There are a number of reasons for this, including:
• India's population is projected to increase by 394 million over the next 35 years while China's population will contract by 28 million.
• India's median age is only 26.6 at present compared with 37 in China and by 2050 only 19.4 per cent of India's population will be in the 60-plus age group compared with 36.5 per cent in China.
But the biggest driving force is the potential movement of huge numbers of Indians from rural to urban areas, which has been one of the main factors driving China's economic boom over the past few decades. This mass internal migration created a huge demand for infrastructure, particularly roads, transport, buildings and apartments in China.
According to United Nations statistics, 54 per cent of the world's population now live in urban areas compared with just 29.6 per cent in 1950. The total urban figure is expected to increase to 66.4 per cent by 2050.
Since 1950, the percentage of the Chinese population living in urban areas has increased from 11.8 per cent to 55.6 per cent. This represents an additional 715 million Chinese urban inhabitants – or an extra 11 million per annum – over the 65-year period. This has been a powerful driver of Chinese economic growth.
India's urban population is only 32.7 per cent at present but this is expected to rise to just over 50 per cent by 2050. This represents an additional 394 million Indian urban dwellers – just over 11 million per year – over the next 35 years.
The positive outlook for Indian economic growth will depend on many factors, including political decisions made in New Delhi. However there are clear signs that India has the potential to replace China as the main driving force behind the world economy.
Meanwhile, New Zealand is one of the world's most urbanised countries with an urban living rate of 86.3 per cent compared with 81.6 per cent in the US, 78.6 per cent in Western Europe and 54 per cent world wide.
New Zealand has close relations with India, particularly through the British Commonwealth and cricket, but our trading activity with the country is relatively low. This country had total exports to India of only $577 million in the June 2015 year compared with $8.27 billion to China.
Our exports to China have increased from $560 million in 1997 to $8.27 billion at present, mostly commodity products.
New Zealand's big challenge is to grow its exports to India from $577 million to more than $8 billion over the next 18 years. The aim should be to have the vast majority of these additional exports in the form of finished products rather than commodities.
Brian Gaynor
Portfolio Manager
Disclaimer: This blog is intended to provide general information only. It does not take into account your investment needs or personal circumstances and so is not intended to be viewed as investment or financial advice. Should you require financial advice you should always speak to an Authorised Financial Adviser.